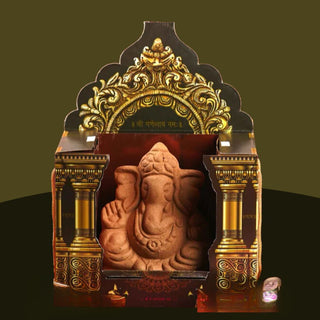 Exquisite Temple-Inspired Artistry
Captivating Temple Design: A Decorative Masterpiece Illuminated to Showcase Bappa's Splendor
Features of the Eco-Friendly Ganesha Idol
100% Organic
Sculpted using the highest quality organic materials, our Ganpati idol encapsulates the essence of nature's purity in intricate detail.
Dissolvable
Witness the elegance of a seamless reunion with the Earth, leaving no trace behind – an eco-conscious celebration that embraces true sustainability.
Pooja Samaghri Kit
A Ganesha deity packaged within an intricately designed temple box, complete with an extensive kit of ceremonial worship essentials.