The Ultimate Guide to Eid Gifts
We are now almost at the end of the month of Ramadan, a holy month for Muslims in which they do fasting daily and only eat two times a day: early morning and in the evening after sunset (also known as ifftari).
We are heading towards the most auspicious day especially for Muslims, Eid-ul-Fitr for which we are here to discuss the most appropriate gift ideas to choose from.
So, what are we waiting for?
Let's get started!
Ghida Mugs
Are you looking to bring something unique and extraordinary to the table? If yes, you can go for this beautiful Ghida Mug which is specially designed for one who is an avid tea or coffee drinker. Since these people have a huge collection of mugs and cups, you must bring them with something which not only looks ideal for gifting but also prove to be useful to them.
The specialty of Ghida mugs is that these cups have Arabic inscriptions on them with calligraphic illustrations of the renowned scrips of the Islamic Religion.
These Ghida Mugs have some special meaning within themselves with the word inscribed on them. Words like 'Al-Ikbal, Al-Ishraq' means 'Radiance as well as Prosperity'.
Traditional Wear For Eid
A traditional wear garment that is specially designed for Islamic occasions like Eid, Jummah would be a perfect gift that help you enjoy the occasion with full ethnicity. There are also kilim style rugs that are quite trendy these days. Get some high-quality hand-woven rugs which will definitely be a crowd-pleaser. You can also get chechia and Kadroun cloak are handwoven, especially from the Hayek fabric.
Onesie for First Eid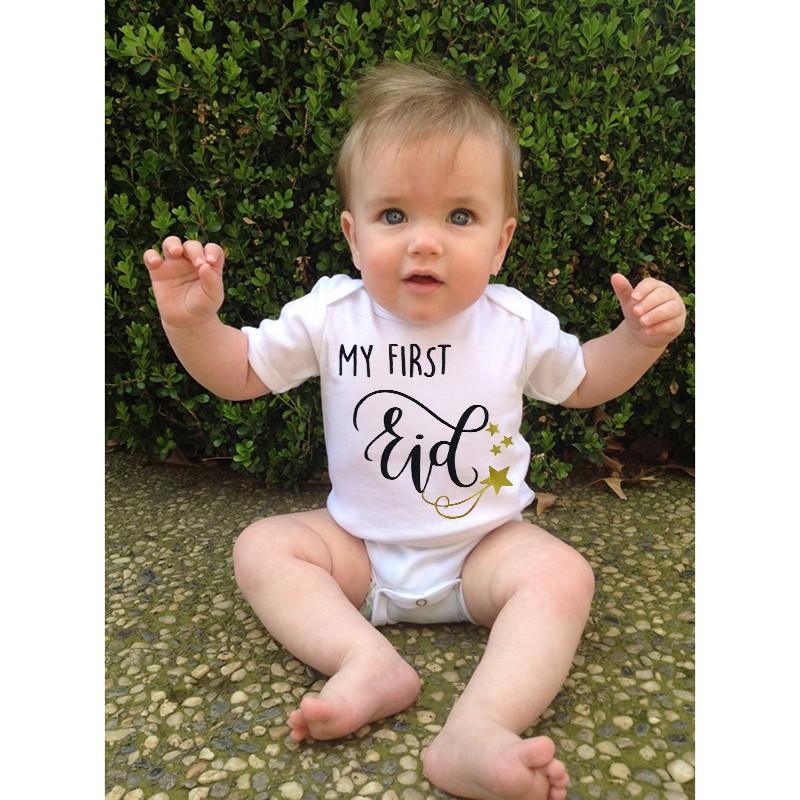 Are you looking for something vibrant for the little ones at your home or your relative's place this Eid? Well, gifting onesie would be a wonderful idea to gift. As it seems a difficult task to choose from an ample range of kids, many people prefer to buy clothes as clothes are the safest option one can have. There's a wide range of clothing in onesie, as these are comfortable and cute-looking clothes at the same time.
Eid Inspired Backpacks
Many brands are continuously producing products related to the Islamic world. A wide range among them includes Islam-inspired backpacks, clothing, stationery items, book covers, lunch boxes, shirts, and others. Kids would be very happy to have such a collection. Also, gifting such religious things to kids would create interest among them to know more about their religion and encourage them to follow the path of religiousness. These gifts are perfect to gift the little ones in your family.
Customized Jewelry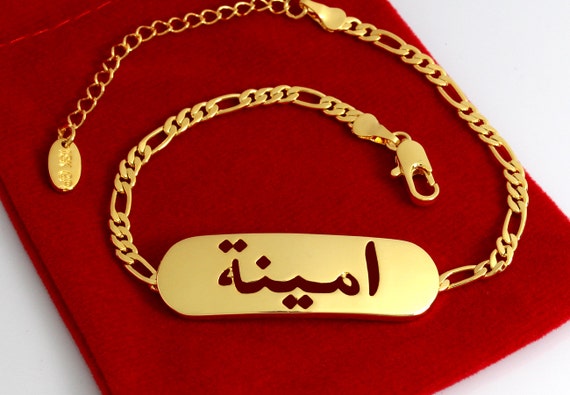 Do you have those in your relations who love to see their names in different languages? Especially in their native language? Well, this gift might be perfect for them.
The beautiful jewelry collection includes bracelets, earrings, rings, pendants, and others that have a beautifully scripted name in calligraphy in the Arabic language.
This is the most special gift for ones such as newlyweds couple and to be coupled. It creates a sense of affection and love among them. Also, these jewelries are customizable so you can choose any shape you want. A beautiful heart-shaped pendant would be an ideal choice for your fiancé.
Islamic printed posters
Well, if you want to get some affordable gift ideas, then you must think of buying Islamic posters for your relatives. These are not highly priced yet look beautiful if hung on walls. These come with beautiful carvings and meaningful designs because of which can be a good choice to gift.
Halal Beauty care
Halal beauty and makeup products do not include ingredients that are derived from animals or genetically modified organisms (GMOs). These ingredients are considered unclean according to Islamic law. They also do not contain alcohol which can even have several negative impacts on the skin. Also, these products are vegan and cruelty-free. So, help your lady friends celebrate Eid with some halal beauty products!
Quran
Do you love to gift religious books and holy books to your loved ones? One of the most religious gifts you can gift is the Quran, which is the holy book of Muslims. This book of Allah includes everything in detail and can be understood in a better way. You must gift this book only to the one whom you think is the most special and dear one to you.
Scrunchies for Begums
Well, who doesn't like to have colorful and vibrant shades of scrunchies? This is a good gift for those who love to wear accessories and are keen to buy them for their own. Scrunchies are a perfect gift for girls especially as they love to have these kinds of gifts for themselves.
Well, we have come to the end of this article. We hope that with the help of this article, we were able to help you find out what you should buy to gift on this Eid and what would be an ideal gift you must gift your loved ones.
Till then Khuda Hafiz and Eid Mubarak!