Pre and Post Holi Skincare Tips
Everyone loves to celebrate a color-drenched Holi whether it is with their friends or family. A fun and frolic time begins with white-colored clothes and ends up with loads of Holi colors which creates havoc among the people. As the day after Holi isn't an off from office day, so it looks very awkward to go with having a lot of colors on the face. It creates a feeling of unprofessionalism among people and they feel embarrassed to go office with such a messy face.
There is a lot of pre- and post-Holi care kids available so that you do not have to face many stains before going to the office after celebrating Holi. You must make a habit before every Holi celebration to make use of Holi skincare kits so that you do not lose up on your beauty and stay gorgeous and ever charming without missing the Holi celebration fun.
Skincare after Celebrating Holi
Many people face permanent colors on their face and body which looks very odd as it stays for 10-15 days after Holi. Well, that is because of the non-usage of herbal colors. Dirty and hazardous colors can destroy or damage your skin as it contains many harmful elements which are dangerous for your skin.
These dirty colors can cause serious irritation or itching to your face and can also cause scratch marks on your face. These hazardous colors can be the main reason for growing pimples on your face. The liquid colors are more harmful as it contains elements like Mica and aluminum which brings a shiny look to the face. It also contains harmful glass particles which damage the skin pores and make it unfit. Here are a few tips that will help you get rid of any harm that the Holi colors might do to your skin.
Pre-care Tips
Use Ice cubes before applying Holi colors
This is the tip which many of you might not know. Rubbing ice cubes to your face before going to play Holi helps a lot. Ice cubes play a greater role to close up your open skin pores due to which it becomes difficult for Holi colors to reach inside your skin pores and damage your skin. It is highly recommended to make use of ice cubes for 12-15 minutes to avoid any such skincare damages.
Use sunscreens
Apply sunscreen thoroughly to your skin and body before you go out to celebrate Holi. It is recommended to make use of sunscreen with a higher amount of SPF for good results. Sunscreen protects the skin from sunburns and doesn't let the colors stick to your body for long. Sunscreens aren't only to be applied only on the facial area but can also be applied to the neck hands and other bare parts of the body which needs protection from the hazardous Holi colors.
Use good quality moisturizers
Moisturizers of good quality aren't a bad idea to be used before playing Holi. Moisturizing lotions create a protective layer on the skin and restrict harmful particles to harm the skin. Also, if you oil your skin before playing Holi, that would be good. Oil can easily let the Holi colors drenched out of your skin while having a bath.
Post-care Tips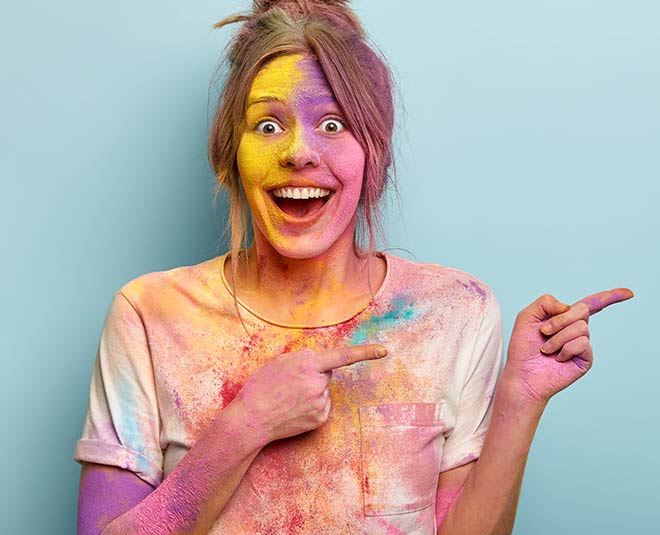 Don't use face wash or body wash
Many facewashes and body wash contain chemicals which when mixed up with the non-herbal Holi colors can disbalance the ph. level of your body. If you want to apply something to your skin for washing the colors then you should opt for organic skin care products which don't harm your skin.
Avoid scrubbing the skin
Scrubbing can cause you serious marks and can irritate the skin. So, it is highly recommended to avoid usage of scrubs just after playing Holi. This is avoid any kind of harshness to your skin.
Use Homemade products
Make use of homemade ubtans or face masks. Homemade ubtans are the best as you would not make use of any kind of chemical substance. Ubtans which are made up of yogurt and milk are the best ones to be used post-Holi celebrations. This is because  yogurt and milk are known as good body cleansers and have healing powers.
Drink plenty of water
Water is the best remedy for almost anything and everything. Drinking around 6-8 glasses of water every day would keep you free from any kind of skin problems. Also, it is known to bring a glowing effect to your skin.
So, one good tip is that to make sure that you remove the colors while they are wet. Also, avoid when they have dried up. Doing this would ensure that it does not harm your body and you get rid of the Holi colors easily. Also, you can make use of a soft loofah to get rid of the dirty particles while removing colors.
Here is to wishing you all a Very Happy, Safe and Colorful Holi!