6 Disney Love Captions for Instagram
Feeling butterflies in the stomach, smiling unnecessarily, and blushing a tomato, there is so much that happens when you fall in love with someone. The emotion cannot be explained in mere words. And why not! Love is an emotion so special that you cannot always find the right words to let the world know how you feel. You can never adore your partner enough. So, writing just a few words about them might seem inadequate. But, time and again, Disney has come up with bang-on dialogues and lyrics that perfectly convey one of the most surreal yet magical emotions in the world. So, we have curated a handful of them that would suit your fairy-tale love story just right. Following are some of the hand-picked options that you can choose from for your next Instagram caption:
"All at once everything looks different, now that I see you." — Tangled, "I See the Light"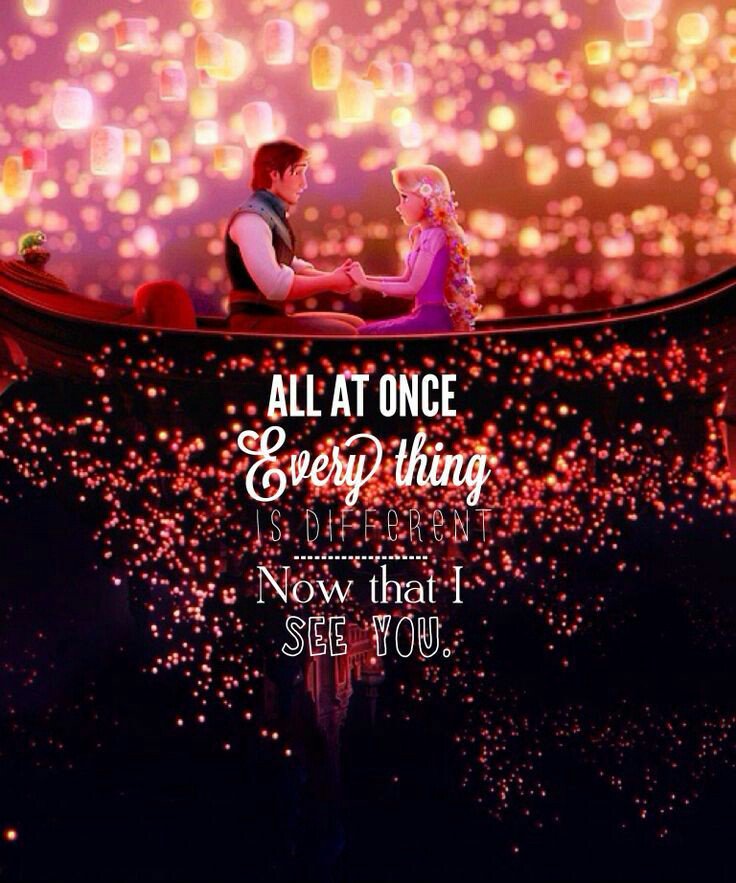 Starting off with probably one of the most popular ones. This line was sung by Rapunzel in the movie Tangled. The song "I See the Light," was all about Rapunzel fulfilling her dream. But little did she knew she was about to have another. At the end of the song, we can all see the love in the eyes of Rapunzel. Maybe this is why everything looked and seemed different to her. Right at that moment, she saw something magical, something special.
"Because when I look at you, I can feel it. And I look at you and I'm home." — Dory, Finding Nemo
Another amazing dialogue was this one. Even though Dory couldn't remember things, she definitely could feel emotions. She might be quirky in her own little ways, but she cared for everyone around her. She went out her way to find Nemo and even helped everyone in the sea whom she came across while doing so. Dory might not have a proper home or a family, but with this dialogue she made it quite evident that one does not need a house. All they need is love.
"How do you spell love? You don't spell love. You feel it." — Piglet and Pooh, Winnie the Pooh
Well, this is absolutely true. One does not spell love. Meaning, one cannot explain what love is. How it feels. How special it is. One can only feel it but cannot describe it in words. Also, this feeling is so eccentric that you might not be able to identify it. You might feel a sense of attachment from the person. You might not want them to leave. You would want to spend some more time with them. And when it all gets intense; you would have to admit that it is nothing but love.
"My dream wouldn't be complete without you in it." — Tiana, The Princess and the Frog
Each day in love is a gift. Every moment spent with your beloved is extraordinary. Your days and nights revolve around that one person. You might have already pictured your lifetime with them. All your dreams involve them. Every milestone of your life you wish to celebrate with them. It feels right when they are by your side. It feels a lot more special when you have them in your life. Tiana was right when she said any of her dream would not be complete without Prince Naveen.
"Love is a song that never ends." — Bambi
A never-ending song. Well, quite appropriately put in the movie Bambi. This emotion is undying and eternal. One's fondness never gets old with time. That is the magic of true love. Your bond grows stronger as the days pass by. You adore your loved one even more with every passing moment. You find a way to love their flaws. Their imperfections somehow seem impeccable. Spending life's ups and downs together make your love deeper and deeper. Such an experience if living a life filled with love!
"Some people are worth melting for." — Olaf, Frozen
Remember when Olaf literally melted saying this? It made all our hearts melt as well. This is because there was truth in these words. No matter how much you try to escape from this feeling. It is something that finds you. Many might call it a trap, but love is something that transforms you entirely. You wish to be a better person for the one you love. You wish to give them all the joys of the world. Even it is by sacrificing your own happiness. Some people are just worth it all!
Well, these were some of the most popular and thoughtful quotes from Disney that can be used as your Instagram caption the next time you wish to upload a picture with your partner. Comment down below if you also have a few suggestions for us.