Ways To Celebrate This Valentine's Day
Love is in the air. And why not! The month of February is just round the corner. This means that you should start planning something for the upcoming Valentine's Day. While each and every festival might seem special, Valentine's is one occasion that will surely help you and your partner come a little closer to each other. There is so much that you can do with you better half on this day and make it a memorable one. Here are bunch of things that you can do for your spouse that will act as a thoughtful gesture and help you celebrate this day in a great way: 
Breakfast in Bed
To start the day with a loving gesture, you can cook an
assortment of your spouse's favorite breakfast options and serve it as soon as they wake up! You can include anything from eggs, waffles, pancakes and even a sandwich. Do not forget to make a cup of coffee/tea or fill a glass of juice that will complete the meal. This sweet gesture will surely come as a delightful surprise for your spouse! What could be a better way to wake up your partner other than bringing them some lip-smacking dishes and treating them with a lavish breakfast in bed!
Head Out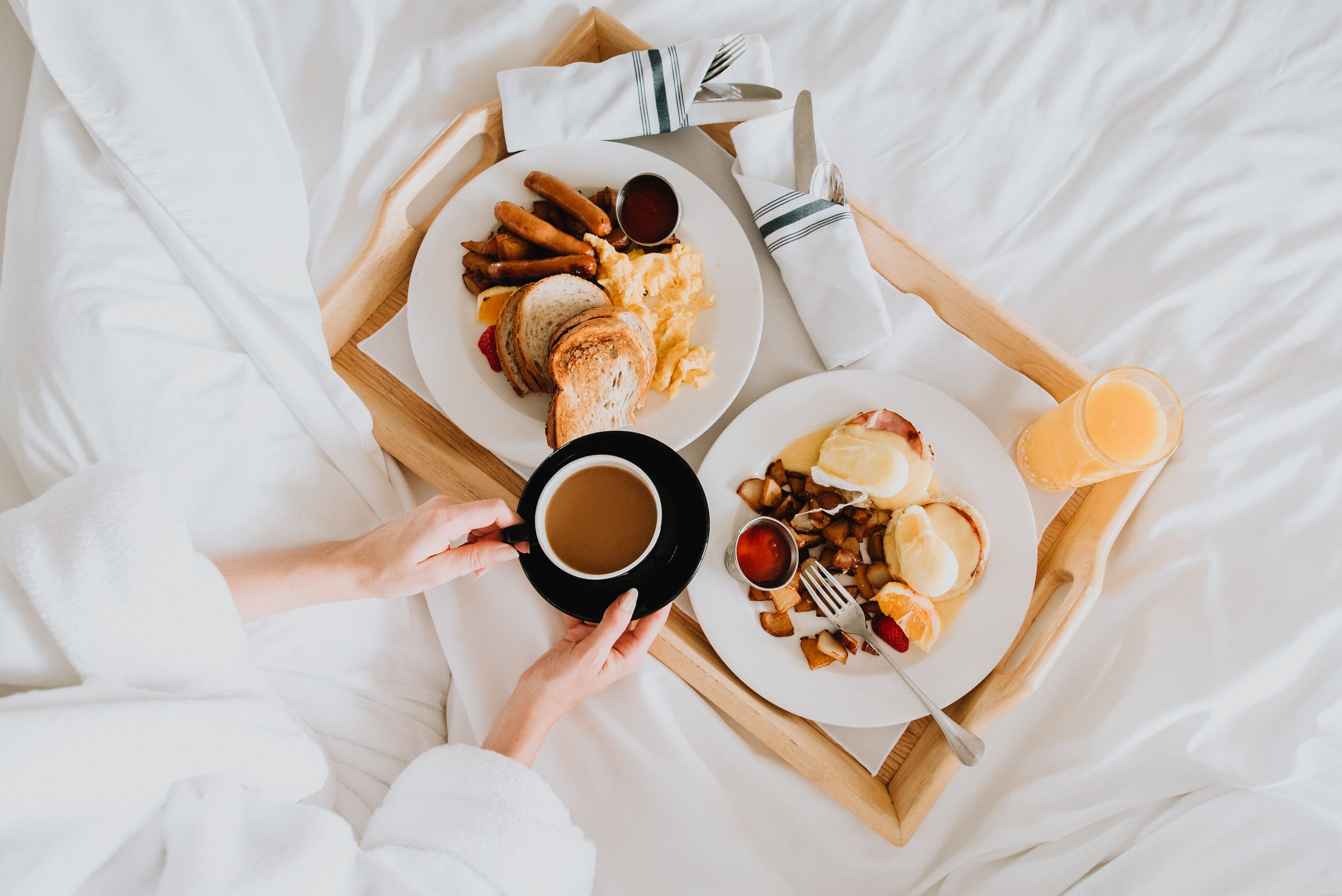 This day is extremely special for you both, and it is necessary that you celebrate with a similar vibe. So to make sure that you do something special on this day, you should plan a fun activity like go bungee jumping, trekking, a visit to a historic place or a theme park. Or you can just simply go for a picnic and enjoy some home-made delicacies with the person who matters the most to you. The main idea is to go somewhere so that you are able to make this day special. While you may spend most of your day at home or at work, be sure that you treat this day as a special one. A fancy date night or a simple picnic, anything would do. 
Something Romantic
If you are unable to spend the entire day with each other due to some reason, we have a great idea with which you will be able to make your spouse feel your presence every now and then. So, if you have to leave the house early and do not wish to wake up your spouse, here is a way through which you can greet them good morning and also wish them a happy Valentine's Day by leaving a gift for them. You simply have to leave some love notes around the house. This will help them feel your presence at every nook of the house! Even if you are not with them, make sure that they do not feel the same way. Also, try and make it on time so that you are still able to celebrate this day together. 
A Treasure Hunt
Similarly, you can lay some riddles around the house which will help them locate their valentine gift. This can act as a treasure hunt which will make this day a lot more interesting. Also, with each riddle solved you can treat your beloved with a bonus gift until they find the actual one. This will add a sense of mystery which will make it a lot more exciting. Not to mention the joy they will get when they find their present. Probably one of the best ways to send a gift to someone. 
Some Quality Time
It is sometimes better to do nothing and spend some time with your favorite person. YES! That's what you can do this Valentine's Day. And since this is your Valentine's Day, it is better to understand each other better. So, we suggest that you should spend some quality time by talking to each other or playing games like truth or dare, rapid fire, etc. Or if you do not want to do a lot, you can simply watch a web series or a movie together. This is one of the best ways to end this special day. Get comfy on a couch and spend some time watching your favorite content on the television before you doze off. 
These were some of the ways in which you can spend Valentine's Day with your spouse and make the most out of it. We hope that this will help you rekindle your love and spend some moments together that you both will cherish for a lifetime.