Ways to Turn Your Balcony into a Comfy Space
Buying a house or moving into a rented one, both are special experiences. Residing in a whole new space might seem quite exciting. Right from placing your furniture pieces to decorating your new abode, everything would feel interesting. But there are a few things that people often overlook. For instance, your balcony. This is the place that can used in a number of ways. You can enjoy a cup of coffee here, witness the mesmerising sunset, or just sit and contemplate.
However, balconies are usually neglected when it comes to decorating and beautifying. But here are a few ways through which you can transform your balcony into a super comfy and relaxing space:
Get a Swing
Add a swing to your balcony can not only enhance the overall look. But it will also offer you with comfy place to sit and enjoy a good swing. You can go for a hanging swing or a swing chair, whatever tickles your fancy and fits in your balcony well. Be sure to add some cushions so that you can enjoy a comfortable and relaxing swing in your special space. Other than this, if you have kids, they are surely going to love this new addition in their home.
Get some Cozy Furniture Pieces
If swings do not tickle your fancy, you can go for some furniture pieces like a comfy couch, a chic table or a stylish chair. These pieces will not only add up to the aesthetic appeal to the space. But it will also provide you with a cozy space where you can relax and unwind after a hectic day at work. After all, your balcony is one of the only outdoors spaces where you can get a glimpse of nature. So, hold on for a bit, sit down and enjoy these leisurely moments in the best way possible.
Roll Out a Vibrant Rug
Rugs can instantly bring a cozy vibe to any room or space. So, if you do not wish to buy some bulky furniture pieces, you can go for a cute rug. These are a great pick if you have a little balcony as they do not take up any space and are even quite portable. Other than this, you can save up some extra bucks as they are quite affordable as well. All you need to do is roll out a vibrant and comfy rug where you can enjoy the mesmerising view from your balcony. You can read a book or take a sip of your coffee while sitting on this cozy rug.
Play with Colours and Patterns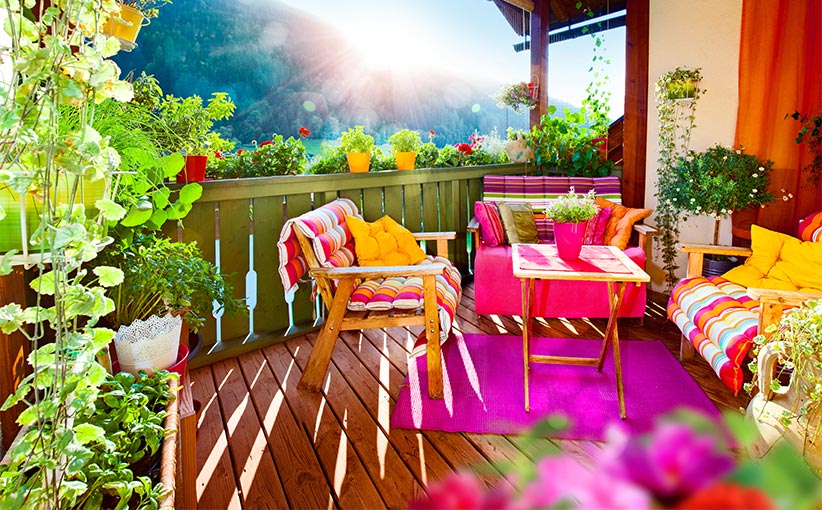 No matter what part of your house you are decorating, you can always have some fun with different colours and patterns. You can go with vibrant hues or even subtle monochromes. From painting the walls to changing the floors, you can do anything that will enhance the overall of your sweet little balcony. As mentioned earlier, you can add a few rugs and furniture pieces as well. But be sure that each of these elements unite together to form a theme and accentuate the overall look.
Hang Up Fairy Lights
While this is a perfect spot for you to relax, your balcony can also turn into a party area at night. You can chill with your friends here, even enjoy a little barbecue or some drinks. But for this, you need to have good lighting. So, hanging up a few fairy lights or even a couple of lamps seems to be a great idea. These lights will illuminate your evenings and let you enjoy your soiree in the best way possible. So, play your favourite songs and turn up the volume, because you now have one of the most beautiful party spots right in your house.
Get some Green Plants
All day long, we hardly get any time to have a look that beautiful mother nature and its beautiful elements. From a hectic day at work, all you would yearn for is a moment of relaxation. And the best way to do is by appreciating the beauty of nature. But why go outside, when you can do exactly that right in your home. You can plant a few plants in your balcony or even hang some planters down the ceiling. Having some greenery in your home is extremely important as it can help you rejuvenate and unwind.
These were some of the many ways through which you can revamp your balcony in the most interesting way possible. We hope that these tips will help you decorate your outdoor space and turn your balcony into one of the cosiest and stunning places in your house.